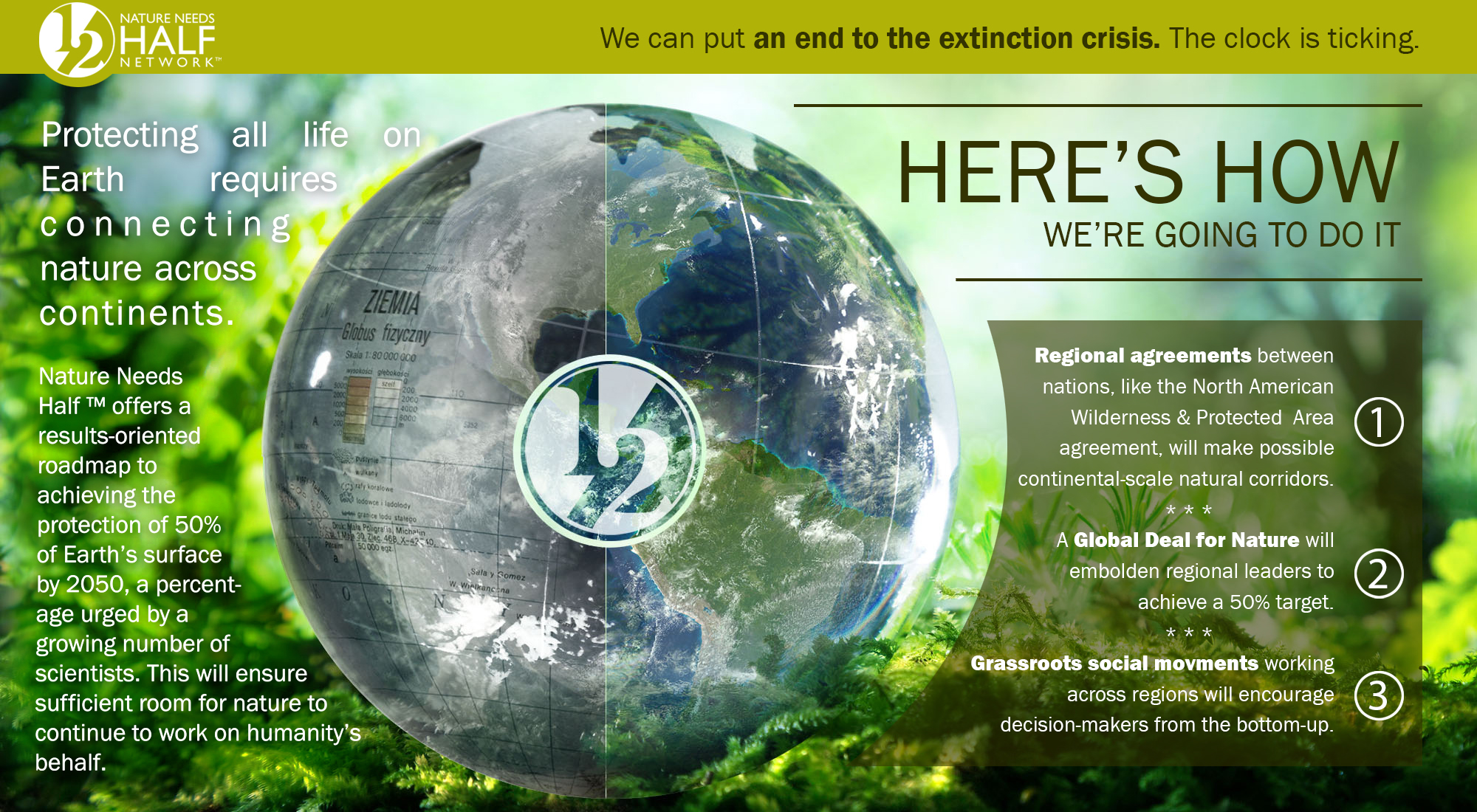 What needs to be done, who is doing it, and how it is getting done
The Nature Needs Half Network sees two main goals:
Protecting half the Earth one ecoregion at a time to preserve maximum biodiversity
Defend human well-being by protecting the environment on which they depend for breathable air, potable water, fertile soils, and a stable climate.
This effort is rapidly evolving, but at the highest level the Network will organize to:
Promote the two goals;
Build-out a three-pronged approach—science, policy, and social engagement;
Work towards the two goals through a variety of activities across all sectors of society;
Stay abreast of the actions and advice of others, encouraging them to take up work to implement the strategy; and
Report back to the funders and the world on progress made.
The elements of our approach are to:
Support the CBD to design and promote a Global Deal for Nature (GDN), similar to the Paris Climate Deal and interacting with it—to address the second great environmental crisis of our era, the species extinction crisis and to guarantee the survival of a living vibrant biosphere. Embedded in the GDN is the need to achieve NNH in the terrestrial and marine realms within 30 years. We will work towards heads-of-state agreeing to such an accord and mobilizing an order of magnitude more funding per year for conservation to achieve it. For the subsequent 70 years there will be a need to keep fostering and refine restoration efforts in damaged ecoregions.
Engage in bottom-up efforts to energize an international grass-roots networks, based on successful existing models, to achieve NNH. A major focus will be how to enhance protected area networks using a new holistic approach to ecoregional planning.
Form partnerships with progressive-thinking groups and individuals who embrace the NNH concept while proposing exciting and achievable ways to shrink the human footprint and ease pressures on the wild half and allow restoration to occur in heavily degraded ecoregions.
Employ our new map, Ecoregions 2.0, to chart progress towards NNH with the goal of reaching 50% and beyond in the terrestrial realm by 2050.
We are a growing network of over 30 organizations calling for a global deal to protect half of nature.
[button link="https://natureneedshalf.org/partners/" type="big"] See our partners[/button]